Newsletter
Forgame Releases Recent Business Updates
Publish Date:2015-07-03 source:Forgame
(Guangzhou China – June 2015) – Forgame Holdings Limited (HKEx: 00484) ("Forgame" or the "Company"), a leading cloud-based game developer and operator headquartered in China, has today released its most recent business updates as of May 31, 2015.
F
ORGAME
ANNOUNCES ITS COLLABORATION WITH MEITU TO
LAUNCH
"
M
EITU
G
AME
B
OX"
On April 8, 2015, Forgame announced its collaboration with Xiamen Meitu Technology Co.,Ltd ("Meitu") in Beijing to launch "Meitu Game Box" (a mobile game app store). Meitu Game Box is pre-installed in all Meitu mobile phones and is primarily targeted at female users. Its design incorporates the "most appealing", "lightest" and "most exquisite" concepts, aiming to tap onto the 980 million users of Meitu to expand the female casual game market. "Meitu Game Box" plans to offer over 200 self-developed and licensed mobile games at its inception, including a female fashion dress-up game customised for users of Meitu.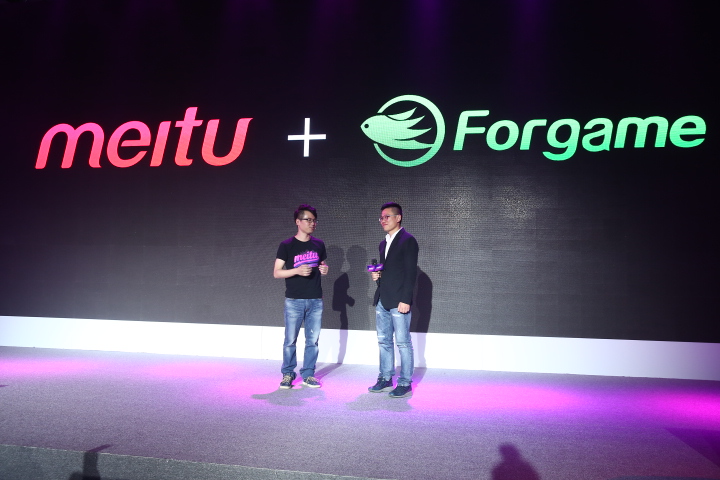 (From left to right: Mr. Wu Xinhong, founder & CEO of Meitu; Mr. Wang Dongfeng, Chairman & CEO of Forgame)

FORGAME PARTICIPATES IN GMGC DEBUT
ING
FOUR MOBILE GAMES
The Global Mobile Game Congress 2015 ("GMGC") organised by the Global Mobile Game Confederation, China's most influential mobile game conference, was held on April 23 – 25, 2015 at the China National Convention Center. In the conference, Forgame participated in the capacity of exhibitor for the first time and discussed with other fellow members of the gaming industry on the themes of "Adaptation, Integration, Connection and Future". The Company also debuted four mobile games during the event, including "Boonie Bears: Homeland Defense Beach Edition (熊出没之保卫家园海滩版)" adapted from the "Boonie Bears (熊出沒)" series, a casual cultivation matching game "ZOO PARTY (tentative name)", a fashion dress-up game and "Ghost Blows Out the Light (鬼吹灯)" (a game with its name adapted from a popular online fiction), aiming to give players a more vivid gaming experience.
MOBILE GAMES
Launch of the two latest "Boonie Bears
(熊出没)" mobile game series - "Bonnie bears: Anipop
(熊出没之开心消消熊)"and "Bonnie bears: Pop Star (熊出没之消灭星星) "
Due to the successful and favourable market reception of the previous "Boonie Bears(熊出没)" series, 2 new "Boonie Bears (熊出没)" match-three mobile games (namely "Bonnie bears: Anipop (熊出没之开心消消熊)" and "Bonnie Bears: Pop Star (熊出没之消灭星星)") were developed and recently launched by Forgame on various major Android platforms. The 2 games imitate certain aspects of the original animation including the character's personal traits, dialogues and actions. In particular, "Bonnie Bears: Pop Star (熊出没之消灭星星)" also incorporates the original voices of the animation which allow players to experience the originality of the dialogues whilst playing the game.

Launch of casual mobile game adapted from the classic Ultraman series
The mobile running game "Ultraman Running (奔跑吧奥特超人)" adapted from the classic Ultraman series was developed and launched by Forgame on various major Android platforms including MyApp (应用宝). The game adopts the upright 3D running model, in which players can play as Taro (泰罗), Ace (艾斯) or Seven (赛文) to patrol the city and eliminate monsters along the way. Players may choose between the adventure gaming mode and the non-stop running mode to test their limits. The game was rated 7.9/10 on 4399.com right after its launch and generated satisfactory monthly gross billings.

Safe Harbor Statements
This press release contains forward-looking statements. These forward-looking statements can be identified by terminology such as "will," "expects," "anticipates," "future," "intends," "plans," "believes," "estimates" and similar statements. Such statements involve certain risks and uncertainties that could cause actual results to differ materially from those in the forward-looking statements. Potential risks and uncertainties include, but are not limited to, Forgame's limited operating history, its ability to develop and operate new games that are commercially successful, the growth of the online/mobile game market and the continuing market acceptance of its games and in-game items in China and elsewhere, its ability to protect intellectual property rights, its ability to respond to competitive pressure, its ability to maintain an effective system of internal control over financial reporting, changes of the regulatory environment in China, and an economic slowdown in China and/or elsewhere. Forgame does not undertake any obligation to update any forward-looking statements as a result of new information, future events or otherwise, except as required under applicable law.

For further information, please contact:

Forgame Holdings Limited
Helen Chen – Investor Relations Associate Director
Ayres Chen – Investor Relations Manager

Tel: +86-20-6660 8091
Email: ir@forgame.com
http://www.forgame.com