Forgame Launches "Meitu Game Box" Partnering with Meitu, Targeting Female Users, Laying a Strong Foundation for the Casual Game Business
Publish Date:2015-04-08 source:Forgame
(Hong Kong, 8 April 2015)
Forgame Holdings Limited
("Forgame" or the "Group") (stock code: 484), a leading developer and publisher of webgames and mobile games in China, today announced its cooperation with Xiamen Meitu Technology Co.,Ltd ("Meitu") to launch the "Meitu Game Box" in Beijing, laying a strong foundation for exploring the casual game market targeting female users.
The "Meitu Game Box" is a casual game pre-installed in Meitu's smartphones, catering for its female users. The design incorporates various concepts, including the "most appealing", "lightest" and "most sophisticated". The "most appealing" game box demonstrates Meitu's philosophy and dedication to aesthetic appeal through various aspects from user interface and user experience to the choice of game products. As the "lightest" game box, Forgame has carefully evaluated the demographics and preferences of Meitu's users and provides them with the most relaxing, loveliest and easiest-to-play casual games. As the "most sophisticated" game box, the "Meitu Game Box" stands out from the large number of mobile games, since Forgame associates with well-known intellectual properties to provide high quality mobile games and focuses on diversified games. The "Meitu Game Box" offers around 20 self-developed and licensed casual games at its initial stage. In addition, Forgame is going to launch a cultivation matching game "ZOO PARTY", custom-made for Meitu's users, in which each character has its own story and personality. "ZOO PARTY" is powered by Unity3D developing engine. Apart from the classic match-three gameplay, players can also adopt and raise a range of virtual animals and build homes for them.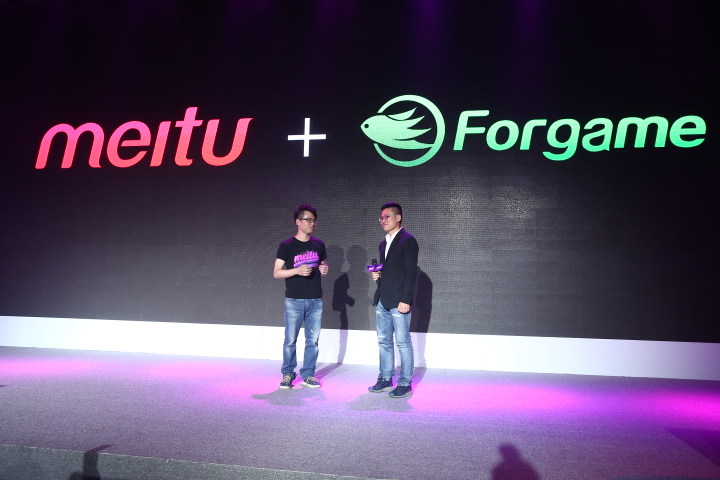 Left: Wu Xinhong, Meitu Founder & CEO Right: Wang Dongfeng, Forgame Chairman & CEO

Meitu is a leading mobile internet platform operator in China. It has created a series of software and hardware products, including Meitupic, Beauty Camera, Meipai and Meitu's smartphones under the theme of "beauty." As at 8 April 2015, the number of users of Meitu mobile products reaches 980 million among which approximately 70% are female users, covering 680 million mobile devices, representing an excellent channel with female users as the target.
According to App Annie, about one-third of the top 10 games in China's iOS top grossing list are casual games. According to Newzoo, almost all the top 15 games based on the Android install base are also casual games, reflecting the enormous market potential of causal mobile games in China. In addition, "Research Report on Potential Users of Mobile Games in China (中国移动游戏潜力用户研究报告)" issued by Tencent's Interactive Entertainment Business Group Research Center (腾讯互娱市场部用研中心) shows nearly 60% of female mobile game users are regular users (playing games every day), with preference for easy-to-play casual games.
Mr. Dongfeng Wang, Chairman and Chief Executive Officer of Forgame
, said, "As a leading developer and publisher of webgames with a solid foundation resting on the superiority and support from our existing business and team, Forgame has succeeded in gradually transforming into a mobile gaming company. We have monitored the gaming experience of female users, which has facilitated our cooperation with Meitu, creating a win-win situation. Based on the publicity gained from the two mobile games launched last year, "Boonie Bears (熊出没)" and "Wu Di Huan Ling (无敌唤灵)", we believe "Meitu Game Box" can bolster the Group's consolidation of its recognition and market share in the mobile game market. The Group will continue to monitor the market trends closely and develop more mobile games, aiming at advancing towards becoming a leading mobile gaming company in China."
In view of the increasing significance of casual games contributing to the future growth of the mobile game sector, the Group has boosted its capable casual game development and publishing teams, as well as its close collaboration with major channels and the top three telecommunication operators in China to strengthen casual games development, promotion and fees collection capabilities. The Group will continue to build on the foundation of "Boonie Bears (熊出沒)" series and offer more casual games in 2015 and beyond to serve the underdeveloped Chinese casual game market, in order to maximise profitability.
- end -
About Forgame Holdings Limited (stock code: 484)
Established in 2009 and listed on the Hong Kong Stock Exchange on 3 October 2013, Forgame Holdings Limited is a leading developer and publisher of webgames in China with a fast-growing mobile games business. As of 31 December 2014, the company had 40 self-developed webgames and 13 mobile games in operation. Its game publishing platform
91wan
has distributed over 90 self-developed and licensed webgames and attracted over 222 million registered players.
.
Safe Harbor Statements
This press release contains forward-looking statements. These forward-looking statements can be identified by terminology such as "will," "expects," "anticipates," "future," "intends," "plans," "believes," "estimates" and similar statements. Such statements involve certain risks and uncertainties that could cause actual results to differ materially from those in the forward-looking statements. Potential risks and uncertainties include, but are not limited to, Forgame's limited operating history, its ability to develop and operate new games that are commercially successful, the growth of the online/mobile game market and the continuing market acceptance of its games and in-game items in China and elsewhere, its ability to protect intellectual property rights, its ability to respond to competitive pressure, its ability to maintain an effective system of internal control over financial reporting, changes of the regulatory environment in China, and economic slowdown in China and/or elsewhere. Forgame does not undertake any obligation to update any forward-looking statement as a result of new information, future events or otherwise, except as required under applicable law.