Forgame Joins ChinaJoy Showcasing New Games
Publish Date:2015-07-30 source:Forgame
(Hong Kong, 30 July 2015) – The 13th high-end game exhibition ChinaJoy, the most popular game exhibition in China, kicks-off at Shanghai New International Expo Center today, during which the debut of the latest mobile and web games have drawn high attention. Forgame Holdings Limited ("Forgame", stock code: 484), a leading casual game developer in China, participates in this exhibition with the unveiling of its new games.

Forgame's booth locates at C818, BTB W3 Hall with eye-catching design that has fully demonstrated its theme of "casual entertainment". With white and blue as the color tones of the booth, added with yellow lighting and different geometric wooden beams, it takes all the game players a future experience. Products on display are highlighted by the very popular games, including mobile games of "Beauty Box (美美小店)", "Ghost Blows Out the Light (归吹灯)", "Sword Immortal (剑仙缘)", "Wu Di Huan Ling (无敌唤灵)", "The Emperor (帝尊)" and "Jiang Ye (将夜)" as well as web games of "Warlord of Red Cliffs (赤壁战神)", "The Master (大主宰)" and "Solitary Conquest (独步天下)". At the same time, the innovative "Meitu Game Box (美图游戏盒)" is launched, with an aim to open up the female mobile game market. It is a mobile casual game app embedded in "MeituPic (美图秀秀)" through which players may access easy-to-play and stylish casual games with an exquisite game layout and delightful sound effects.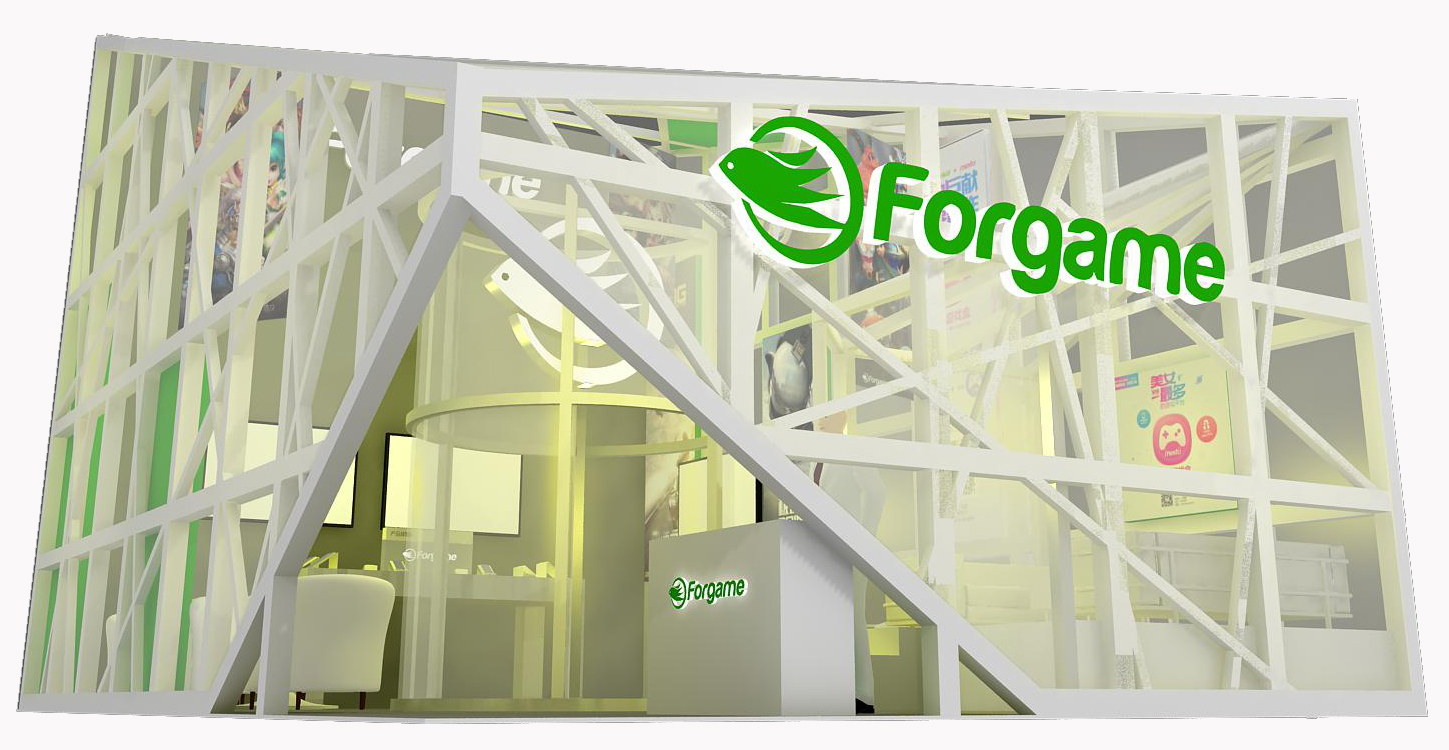 Forgame's booth locates at C818, BTB W3 Hall with innovatively designed layout to fully display its concept of "casual entertainment"

Meanwhile, Forgame will collaborate with Beijing Exchanger Technology Development Co., Ltd and ChinaJoy to convene a round-table conference at Kerry Hotel, Pudong, Shanghai on 1 August. The subject of the conference is "Case Study on Cross-border New Thinking of IP - Ghost Blows Out the Light". It will analyze IP packaging and share experience on IP operation from scratch, thereby achieving a win-win situation for all parties.

Mr. Dongfeng Wang, Chairman and Chief Executive Officer of Forgame, said, "Forgame is actively expanding our mobile game business and globalization strategy. The mobile game industry is literally a blue ocean with untapped potential and hidden treasures, namely the female mobile games, which we will focus on. Also, we will aggressively develop the overseas web game market to steadily forge ahead our overseas expansion plan."

- End -
About Forgame Holdings Limited (HKSE stock code: 484)
Established in 2009 and listed on the Hong Kong Stock Exchange on 3 October 2013, Forgame Holdings Limited is a leading developer and publisher of webgames in China with a fast-growing mobile games business. As of 31 December 2014, the company had 40 self-developed webgames and 13 mobile games in operation. Its game publishing platform 91wan has distributed over 90 self-developed and licensed webgames and attracted over 222 million registered players.

Safe Harbor Statements
This press release contains forward-looking statements. These forward-looking statements can be identified by terminology such as "will," "expects," "anticipates," "future," "intends," "plans," "believes," "estimates" and similar statements. Such statements involve certain risks and uncertainties that could cause actual results to differ materially from those in the forward-looking statements. Potential risks and uncertainties include, but are not limited to, Forgame's limited operating history, its ability to develop and operate new games that are commercially successful, the growth of the online/mobile game market and the continuing market acceptance of its games and in-game items in China and elsewhere, its ability to protect intellectual property rights, its ability to respond to competitive pressure, its ability to maintain an effective system of internal control over financial reporting, changes of the regulatory environment in China, and economic slowdown in China and/or elsewhere. Forgame does not undertake any obligation to update any forward-looking statement as a result of new information, future events or otherwise, except as required under applicable law.