"Liberators" Recognized as One of "Facebook's 2016 Best Web Games"
Publish Date:2016-12-30 source:Forgame

At this festive season of the year, we are delighted to share with you the joyful news that our flagship webgame for overseas markets, "Liberators", has been honored as one of the winners of "Facebook's 2016 Best Web Games." This recognition by the world's most influential social networking platform would not be possible without all of your support, and this accolade is also the best acknowledgement of our efforts over the past few months.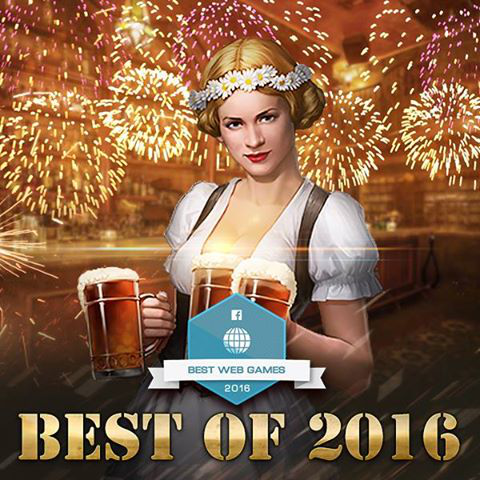 "Liberators" is available in more than 100 countries and regions around the globe since its launch in mid-2016. There are currently nearly 1.8 billion monthly active users on Facebook, and "Liberators" has brought platform users a lot of fun, enabling them to deploy their troops in the game. "Liberators" has been recommended by Facebook twice since its launch and has ranked among the top games on the best sellers list for a long time. This award demonstrates that the Group is advancing in the right direction in penetrating the overseas games market. Our team's successful experience in game operations in overseas markets has opened a new arena for Forgame. We are pleased to have you accompanying us on our way to success, and we are thankful to Facebook for the recognition and comments about our "Liberators" team:
"While their WWII strategy game allows players to build large and powerful armies, the team was also focused on conquering overseas markets themselves when they turned to Facebook to succeed with this plan."
Mr. Dongfeng Wang, Chairman and Chief Executive Officer of Forgame, said "We are delighted to know that 'Liberators' has impressed Facebook and game players alike. Being highly-regarded by the market is significant for the development of the Group. Forgame is proud to bring the best gaming experience to all supporters. Going forward, leveraging the solid foundation of 'Liberators', the Group will continue to strive to develop and launch more quality games overseas."
Looking for something interesting in the festive season? Go online and build and lead your own army at "Liberators" on Facebook!